Last week, I watched Rudolph the Red-Nosed Reindeer with my boys who are six and two. We watch it every year and I have most of it memorized now. I've been watching the special since I was their age. The boys loved the parts with Hermey the elf who dreams of being a dentist but instead makes toys.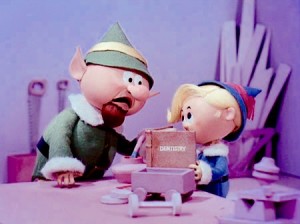 We laughed together as we watched Hermey get in trouble with his supervisor who notices that the shy elf isn't keeping pace with the other elves and the pileup of toys is "a mile wide."
Confused as to what's causing the holdup, the supervisor asks, "What's eating you, boy?" and Hermey replies, "Not happy in my work, I guess…I just don't like to make toys."
"What!?" the boss yells. The boys and I laugh together. I hit rewind so we can watch it again. Then he asks, "Do you mind telling me what you do want to do?" and Hermey admits that someday, he'd like to be a dentist.
The supervisor screams, "A dentist!? You're an elf, and elves make toys."
Later, the head elf asks Hermey, "Why weren't you at elf practice?" Hermey says, "Just fixing these dolls' teeth"… and the supervisor responds, "Just fixing…? Now listen, we have dolls that cry, talk, walk, blink, and run a temperature. We don't need any chewing dolls." Hermey says he just wants to fit in and the boss says, "You'll never fit in! Now, you come to elf practice, learn how to wiggle your ears, chuckle warmly, go 'hee-hee' and 'ho-ho', and important stuff like that. A dentist! Good grief!"
He slams the door. The boys laugh again.
But I started thinking about how we could learn a lot from this misfit elf.
Hermey found an opportunity. He knew the town didn't have a dentist and needed one. He had the interest and skillset to fill that void and realized that success only comes when preparation meets opportunity.
Hermey was determined. He wasn't going to let anyone tell him that he was just an elf. Even if he had to leave everything behind and start over and be independent, he was going to be a dentist.
Hermey practiced. Yes, he was a little too lazy at work. But he knew his stuff. He read everything he could about dentistry. He practiced on toys. He did the hard work of learning his craft to one day follow his calling.
Hermey believed in himself. When he met fellow misfit Rudolph who asked, "Who are you?" Hermey replied, "Well, actually, I am a dentist."
Hermey took action. When the Abominable Snow Monster of the North (aka the "Bumble") threatened to hurt his friends, Hermey used his dentistry skills to remove the Bumble's teeth. He proved himself.
I must have seen this Christmas special thirty times but I had never really given that part much thought. As the boys watched the rest of the special, I couldn't help but think about how we're all misfits like Hermey in a way.
Are you an accountant who wants to be a stay-at-home mommy?
Are you a businessman who wants to be an author?
Are you a college student who wants to be a dentist?
Who are you, really?