We're all afraid of something. We fear things like public speaking, heights, flying, spiders, clowns, and sometimes going to the dentist. And our fears often change as we grow older. My two-year-old is scared of thunder yet is fearless when he wants his M&M yogurt. Trust me, you don't want to be anywhere near him when he wants his yogurt.
We also fear much more important things in our lives. A promotion at work that we're thinking about going for. A new opportunity across the country that would mean starting all over.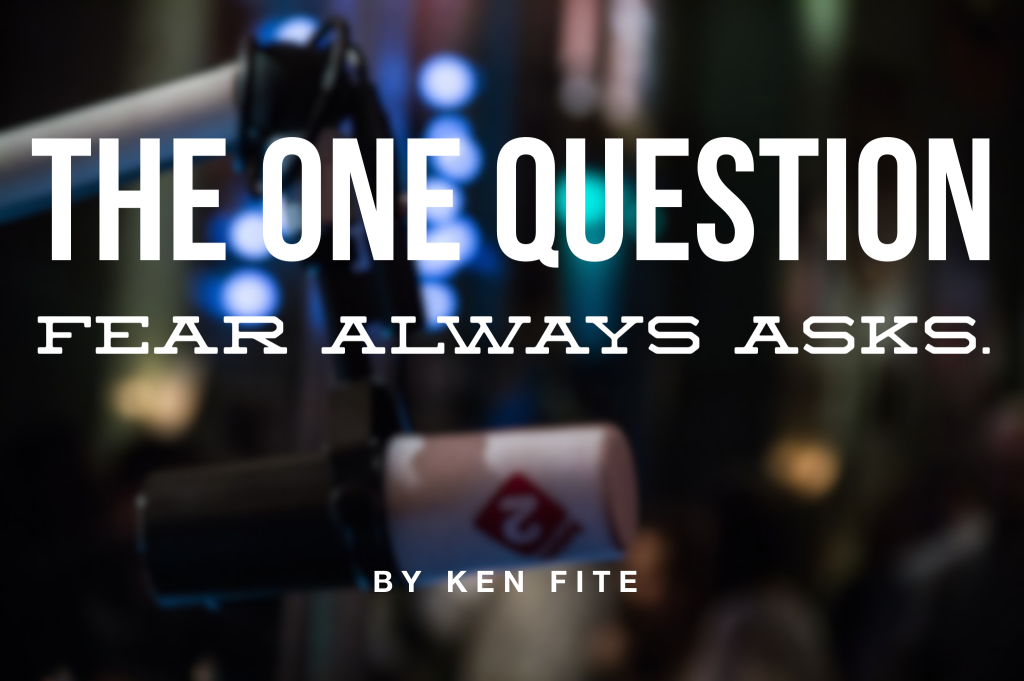 The big things in our lives that we fear don't have to be as dramatic as a job change or a move. It can be an important conversation with someone that we don't feel like we're prepared to have.
It's usually at this moment, when we start dreaming about doing something big with our lives, or taking a leap of faith, that Fear asks the question that he loves to ask: Who are you to do that?
Fear's good at asking that question. I hate that guy. He's a wrecker of dreams and he loves to tell us when we're getting close to crossing the line. Even when it's a dream we've had for years.
When I was eight years old, my parents bought me a microphone for Christmas. It wasn't just any microphone – it was a battery powered wireless microphone that when tuned to the right frequency on the FM dial, I could hear my voice come out of the speakers like I was on the radio. It was the best gift ever. I spent hours playing records and talking in between them, pretending to be a DJ.
It was no surprise when a few years later in high school, I started to think about riding my bike down to my favorite radio station, 101.1 WJRR, to ask for a job. I spent a lot of time working up the courage to go. Fear kept asking me, Who are you to do that? And for a while, I believed him.
I was a nobody. I wouldn't be taken seriously.
Who takes a guy who parks his bike at the curb to apply for a job seriously?
One day, I decided to go for it. I rode my bike to the radio station and after a quick stop at the 7-Eleven for a pack of Now and Laters, I parked my bike and walked in. The receptionist, whose job responsibilities included keeping riff raff like me away from the Talent, politely told me to go away.
So I did. Fear was right and Fear had won. But I knew that I was supposed to be on the radio and that I was supposed to work at that radio station, so I went back. After a heavy sigh, I was told to go get experience at a smaller station and maybe, if I was lucky, one day I would have a shot.
After high school, I got a job on the air at my college radio station. I went on to DJ at nine other radio stations until one day, many years later, I finally got a call from WJRR who needed a new DJ. After years of Fear whispering in my ear, Who are you to do that? I finally got to show him.
In other words, I gave Fear an uppercut to the chin. It took me a while, but I proved him wrong.
Radio was my passion. At least, it was at the time. Although that dream ended years ago, what I've found is that I wasn't in love with radio, I was in love with broadcasting. Maybe that's why I write.
What do you fear? What big dreams do you have but aren't taking any action on because you don't believe that you're able to do something about them? It's time to dream big. It's time to be brave.
The thing about Fear is that he never goes away for good. Fear has come back for a visit because he knows I have big dreams for my writing. And he's shown up to make sure that doesn't happen.
So today, I'm going to take my writing to a new level. I'm going to do the thing that Fear doesn't think I should do or could do. I won't tell you what that thing is. That's between Fear and me.