One of my favorite movies as a kid was Pinocchio, the animated Disney film about a wooden marionette created by a woodworker named Geppetto. I'm sure you've seen it many times over the years, just like me. I was reminded of the film after looking for a classic movie that I could show my kids. In the film, after Geppetto finishes creating Pinocchio, he wishes upon a star that Pinocchio would one day become a real boy.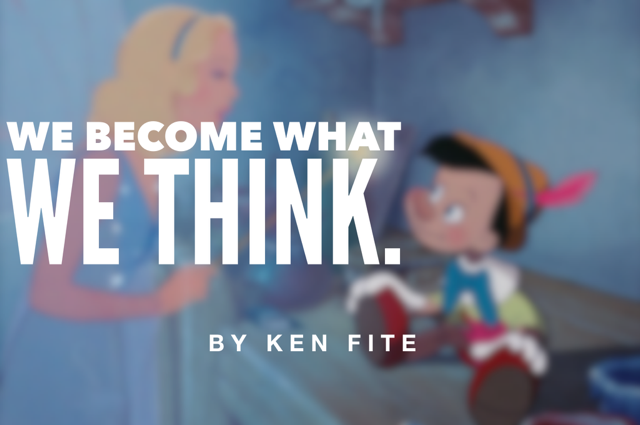 It's the next part that I remember most. After Geppetto goes to sleep, the Blue Fairy visits Pinocchio and tells him that if he does three things, if he can prove himself to brave, truthful, and unselfish, his dream – and Gepetto's wish – will one day come true.
These character traits were essential to experiencing a transformation then as they are now:
1. Be brave.
2. Be truthful.
3. Be unselfish.
Life is full of risks. Every day we waste time worrying about doing the things that scare us instead of taking those things on directly. We can all be braver than we are but we like to play it safe. I've written before that there is no growth in the comfort zone and there is no comfort in the growth zone. The real magic happens when we leave our comfort zone. To see the light at the end of the tunnel, we have to walk through the darkness. If we are never afraid, we can never be brave.
What's always struck me about this movie is that just like in real life, if we focus on being brave, truthful, and unselfish, if we focus on following all of the rules all of the time, we will fail.
We are human. We will make mistakes. Focusing on our failures is a great way to stop any forward progress. But if we focus on what we want to become instead of what we're not, we will arrive.
It's called the Pinocchio Effect. Pinocchio wanted to become a real boy more than anything, and he knew what he needed to do to get there. But it was still hard for him. There were unsavory characters that he met along the way that encouraged him to lie and do bad things. He skipped school. He met a weirdo cat that deceived him. He befriended a kid that turned into a donkey.
Thank God life isn't that psychedelic but it can be just as difficult. In the end, after failing time and again, Pinocchio finally focused on the right thing. That's how it works – we become what we think. He was convinced that he would be a real boy one day. And in the end, when he finally stopped focusing on living up to the rules, when he changed his mindset, that's what he became.
Stop focusing on what you're not and start seeing yourself as the person you want to become. From this day forward, tell yourself who you are. With the right focus, amazing things can happen.
Be brave. Be truthful. Be unselfish. But above all, be aware of what you focus your thoughts on.
That's who you will become.